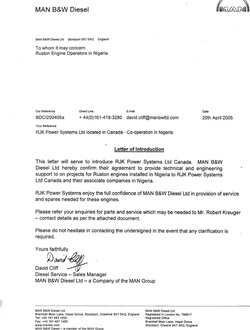 From 1979 to 2009 Robert J. Kreuger has been self employed, with RJK Mobile Mechanics Inc. (incorporated 1980) and RJK Power Systems Ltd., two Canadian companies formed by founder Robert J. Kreuger to service power, general construction and mechanical needs in Canada's remote northern mines and communities.

General construction, Mining surplus and supply, Power generation, power plant restoral and relocation have been his focus for over 30 years with come crews in excess of 250 trade persons. However, new and very exciting opportunities in Africa have opened up another arm of his interests including alternative power sources.

PROJECTS/Reviews

During the progression of the family business, I have managed re-construction budgets in excess of 15 million Canadian dollars involving 3 international insurance companies where I played the key part of "invoice allocation" from insurable fire claim, pre-mature equipment failures and general re-construction reviews.

These companies then contracted my services for international site audits and claim settlements. During all aspects of construction or relocations, I have negotiated engineering companies, personal, environmental groups, and human resources to bring projects to closure to meet local and federal government laws.


---