Head Office Now located in Calgary Alberta Canada....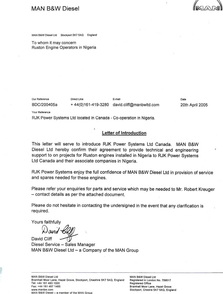 Man B&W Diesel Introduction letter for Africa.
From 1979 to 2015 Robert J. Kreuger has been self employed, with RJK Mobile Mechanics Inc. (incorporated 1980) and RJK Power Systems Ltd., two Canadian companies formed by founder Robert J. Kreuger to service power, general construction and mechanical needs in Canada's remote northern mines and
communities. General construction, mining surplus and supply, power generation, power plant restoration and relocation have been his focus for over 38 years with crews in excess of 250 trade persons. However, new and very exciting opportunities in Africa have opened up another arm of his interests including alternative power sources.
PROJECTS/Reviews
During the progression of the family business, I have managed re-construction budgets in excess of 20 million Canadian dollars involving 3 international insurance companies where I played the key part of "invoice allocation" from insurable fire claim, premature equipment failures and general re-construction reviews.
These companies then contracted my services for international site audits and claim settlements. During all aspects of construction or relocation, I have negotiated engineering companies, personal, environmental groups, and human resources to bring projects to closure to meet local and federal government laws.
RJK Canada is now taking applications or expressions of interest to independent service providers to join our group for all of Canada USA and Globally. RJK Country Organizers will dispatch quality independents to each job and project in all sectors, on a 24/7 program. To learn more about the program, please fill out the form on the suitable link on the left. A brief description is below.
Mining,
Transport
Agra
Construction.
Oil and Gas
Power generation (remote) and HIGH ARCTIC.
---
---
RJK Canada Global Service Provider - Introduction


Hello and good day to you and yours...
RJK is now establishing service providers for every region of Canada, USA, Africa, Europe, Indonesia , United Emirates and others. It is the intent of the RJK Team to search, locate, and establish people like you to be a part of RJK, where-as RJK would support, develop, and refer to the independent service provider or representative, any work, projects and support to best service your prescribed area.
RJK is presently describing the roles of "
Primary and secondary and support
" description and expectations for all areas of the business model.
RJK is in discussion with independent people in many areas of our target market at the moment to determine the market industries, and partnership agreements. If this is of interest, please expand your thoughts and describe to me one of the related forms on this website
I now have broadcasted or reached out to you since July 14th and have been overwhelmed with the response for choice areas or regions that independent people where they want to be the primary agent for RJK.
The Plan
RJK (Robert Kreuger) has been an Independent Mechanic or service provider
of "Mechanics on Heavy equipment"
since 1979 originating from Saskatoon, Saskatchewan in Canada, catering to mining, exploration, power generation, and the high arctic adventures or radar sites and communities that are powered by recip-diesel engines. RJK then was asked to provide human resources and technical people to travel the globe to undertake warranty repair and equipment failure rebuilding for Ruston Diesel, (Originating with English Electric, GEC Alstom, and now Man Diesel) providing services to foreign governments, shipping, and stationary power producers or the IPP (Independent power producer) worldwide.
RJK understands the challenges that the owners and operators of service trucks have, I call it the "feast or famine mode." Due to satisfying one customer on a long term repair, he cannot satisfy the second or third due to time allowances. It is clearly understood that if a customer is not being serviced he has no other choice but to seek and find others to undertake the repair or the customer's needs. Basically, making the customer find others with the likelihood of them being with the other choices and not calling you back for the next task, we call that a "Missed Sale." RJK has also witnessed where clients would use one independent to argue or condemn another independent only to reduce or not pay for the initial invoice. RJK has a solution for that.
RJK is now uniting all the independent service providers and establishing the "Primary (rights of 1st refusal) and Secondary and other support independent service providers for all areas and regions so the service provider does NOT use the word NO to new customers.
RJK
"Primary Service provider" (RJKPSP)
is described as one that:
Is certified or qualified in the trade (Mechanic, electrician, welding or other trade)
Has initiated or started the service in an area for his "scope of work" (SOW)
Has a 5 year business plan for success, if not RJK will work and undertake with you.
Is customer orientated for service.
Negotiated a partnership agreement with RJK
Has an accounting system interest. If not, RJK will establish accounting to suit and file regular reports.
Has the tools of the trade. (Diagnostics computer for all equipments)
Has the common knowledge to address the customer with "service is what sells" and promote the RJK service providers.
Be willing to invite other RJK service providers (secondary and support) to the area and receive a % for all work undertaken by them and follow-up with the customer for quality control (QC).
· Join and follow this group
.. https://www.facebook.com/groups/1597672080482824/?pnref=lhc
As you can perhaps gather, RJK has made a business from providing service for individuals, companies, and the dealers and in many cases worked with the manufacturing or factories on their products worldwide. RJK has also undertaken repairs or provided services to construction and Agra dealers on the trade-in uncommon equipment to the said dealer and provided mobile repair or service that has turned a 2 week request into many months of human resources for the high arctic sites, mines local and abroad, and governments overseas. It is also acknowledged that when that happens, the home base customers are not cared for.
RJK has a solution for that, and this is the early steps to put balance back into the life of the independent service provider..... Yes, for you and your family all while servicing your customer list and collecting revenue from others doing your work and vice versa when needed. It is also proven that coffee time is the best time to discuss problems inside a shop, where diagnostics can be discussed and a solution or plan of action will be agreed upon and supported for all RJK independent people vs. solo "High risk decisions" for new exposures to the uncommon repair. RJK will make many minds available to guide when requested.
RJK Management is formed from many long time technical and business minded service experts. These experts have been used on sites running crews, undertaking failure analysis, and undertaking insurance claim assessments for major repair coupled with court action testimonies when needed. It is the mandate of RJK to mediate differences, to come to negotiated settlements prior to court actions for actions that would maintain long term customers Vs . RJK has reviewed, written and supported "statements of claims" when there seems to be no "good will negotiations" which sometimes happens. This is much time that will cut into the revenues or bad debt of the independent service providers effecting them with unproductive time, resources and frustrations or distracting the independent from positive outcomes or getting paid in some cases,hardship on both sides.
RJK understands that independent mechanics are good mechanics and they went to school to become great mechanics and they believe in themselves, and simply want to earn fair market value for their service. It is understood that as an independent, there are times when your time is challenged while attempting to satisfy their customers, we know already that it costs more to get new customers then it does cost to maintain the ones you already have. RJK will offer a solution to this challenge by uniting or organizing independents into the "RJKMMSP". (
RJK M
obile
M
echanic
S
ervice
P
rovider).
The RJKMMSP will be a membership based partnership agreement that is formed from all areas of North America.This growing organization is built to provide generational business model that can be transferred or passed on to others as an investment where-as:
· RJK will negotiate partnership agreements based on the dedicated service area and product lines.
· RJK will review and develop a bankable business plan if one has not be provided.
· RJK will undertake a feasible market study that will support the independent and business plan after understanding the personal goals of the independent mechanic. (Establishing goals with milestones.)
· RJK will review the strengths and weakness of the independent mechanic and when requested, offer programs or product support for the prescribed area.
o Meaning if one is a CAT strong mechanic and prefers only CAT equipment, RJK will support other independent service providers for other brands and such for that area to work as a team.
o Some independents only want construction vs. trucking equipment, again, RJK will identify all the areas of weakness and provide the strength.
o Some are strong in Agra vs. trucking or transportation or construction
o Some are strong on compressors or power generation or in the oil and gas sector.
o Some are only automotive.
o Some can offer shop service vs. strictly mobile service
· RJK will negotiate and establish protected or identified market areas as "Primary service areas" for their products or service speciality, meaning "Rights of 1st refusal" for new business.
· RJK will offer insurance programs for workmanship issues.
· RJK will negotiate part purchases for product support.
· RJK can offer equipment repair financing. (Subject to client's application.)
· RJK can offer accounts receivable financing.
· RJK can offer to the client the "RJK Retainer Reduction Program" for the customer retention plan.
· RJK can offer dispute settlement reviews and or collection plans if need be.
· RJK can offer diversity to grow your business.
Yes, RJK is interested in you, the "Independent Contractor Service Provider." If the above is of interest to you, please request a application and MEMBERSHIP form and commit to get started to secure your negotiate service area.
Please reply this email attention:
Robert Kreuger
rkreuger@rjkcanada.com
403. 370 0205 in Canada.