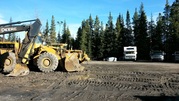 We are looking for independent mechanics or Service providers with service trucks.... Don't have a service truck.. we can get you one! Please fill out the form located
http://www.rjkcanada.com/index.html
RJK Canada will be positioning our mechanics service providers for all regions of Canada, USA and Mexico... from those people or providers, RJK will be drawing the talents to then fulfill projects in other countries.
Mobile mechanics, shop mechanics and services, heavy equipment repair, stationary and mobile crane services, welding, new and used part providers, automotive mechanics we are looking for them all! We dispatch mechanics on an as and when basis, and coordinate long term customer follow-ups.
RJK was established in 1979 and has undertaken projects worldwide and would welcome your experience to join our team.
RJK Mobile Mechanics Inc. established 1979 and NOW carries out project Rebuilds or equipment repair on 3 continents. We want your work! Our mobile service providers will tackle your project or repair with professionalize and promptness, our group is adjusted to all types of challenges. Please review
http://www.rjkcanada.com/-rjk-client-job-request.html
and fill out your request form and RJK will soon reply to you for more information.
Again, thanks for your interest.. and ask questions if any arise.
Join and follow this group
.. https://www.facebook.com/groups/1597672080482824/?pnref=lhc
Regards